---

BLUEGUM BUSINESS SERVICES
PROJECTS
---
---

---
---
.
Powers Fasteners - Construction of purpose built warehouse in Yatala QLD - 2011 / 2012
In 2011 Bluegum was contracted by Powers Fasteners to create a new building to accommodate the Queensland business operation and relocate the business from Archerfield in the cities Western suburbs to a more fitting location. Bluegum conducted a series of studies relating to land costs / building costs / area rental returns / investment capital improved values etc. Based on the findings of this report, Powers Fasteners located a suitable investor and the project began. Land was sourced and secured by Bluegum and initial working drawings were created based on maximum size of building to land ratio, taking into account the various local authority regulations.
Tenders were put out to three chosen contractors and from this a builder was chosen who worked with Bluegum for the duration of the project. The building was completed in September 2012 and the company was relocated into the new facility from Acacia Ridge.
Virtually every aspect of the building construction was overseen by Bluegum including the finished design, internal fittout, colour scheme, architectural highlights and signage. Bluegum sourced new furniture, racking, appliances and IT equipment for the building. The service we offer is from inception and design all the way through the project to the project management of the actual relocation of the company into the new building. We even shop for the crockery, cutlery and bath towels if required. Naturally a building of this calibre is fitted with a state of the art, monitored security system, restricted key access and high resolution video feeds.
A prototype refrigeration system to house a specific type of adhesive product was designed by Bluegum and installed into this building. Designed to allow palletized storage of up to 16 pallets of product, this elevated coolroom is designed to maintain 19 degrees centigrade even in the height of a Queensland Summer.

---
---
.
Powers Fasteners - Wangarra, Western Australia - 2011
Bluegum designed and contracted a new building for Powers Fasteners, Western Australia in 2011. A purpose built facility encompassing warehouse, administration, sales and product training and testing facilities were included in the design. The building was designed around maximum pallet storage with the facility to run 6.0m racking throughout most of the building. The Powers Fasteners colour scheme continued throughout this building, both internally and externally, following along the corporate presence that the company has adhered to. Container set down areas, enclosed and gated yard, and secured roller shutter doors with security internal gates to allow substantial flow through ventilation for the hot climate were also included.
.
---
---
.
Powers Fasteners - Thebarton, South Australia - October 2011
Bluegum sourced, located and fitted out a second building for the South Australian business arm of Powers Fasteners during the second half of 2011. The guys had moved into a building just three years previously and although it was a good fit at the time, the previous building had very limited height, no office segregation and no meeting room. New racking was installed along with new furniture and chattels giving the South Australian team a fantastic start to 2012.
---
---
.
sia Abrasives Australia - QLD State Office - September 2010

Design and construction of a custom designed and built facility in Yatala, Queensland and relocation of the company to the new premises.

sia Abrasives made an acquisition of Australian Industrial Abrasives in early 2010 which resulted in an amalgamation of the two companies into a joint facility. Bluegum were contracted to conduct a staff and sales demographic study in conjunction with an area / location assessment. From this information a plot of land was purchased in Yatala, QLD and Bluegum were further contracted to design and construct a purpose built facility to house the Queensland operation which consisted of warehousing, product conversion, admin and sales. The building was designed by Bluegum, who then invited a number of local contractors to quote on the works. Once construction commenced, Bluegum took the position as company liaison representative to ensure that the scope of works was adhered to and that all works were completed to the expected standard. Once completed, the relocation of the company into the new premises was engineered and conducted by Bluegum.
.
---
---
.
Powers Fasteners - Regency Park, South Australia - December 2008
Bluegum were contracted by Powers Fasteners to upscale their operational office in South Australia. A suitable unit was located within the current complex that allowed 100% expansion with limited outlay. The building required some remedial works including painting, floor coverings, air conditioning and suitable racking. Bluegum managed and completed these works and relocated the offices over a weekend period to ensure no lost time.
---
---
.
Powers Fasteners - Albany, New Zealand - Sep 2006 / May 2007
With the lease in New Zealand due to expire and with the building bursting at the seams, it was deemed time to engage Bluegum to source a suitable property on the North Shores of Auckland, New Zealand and relocate the Powers facility there. A suitable duplex building was located with good street exposure and in a quality light industrial area within easy reach of Auckland via the motorway. Staff demographics played a large role in placement, but also taken into account were lease values in the various areas and courier / customer pickups.
The building was a rather odd shape with the offices being triangulated into the corner of the block and on the second level, but the warehouse was symmetrical allowing for good racking placement and near perfect aisle widths. The duplex building later became available and Bluegum again assisted by setting up the front building and extending the warehouse store through.
---
---
.
Powers Fasteners - Smeaton Grange, New South Wales - April 2007
Powers Fasteners relocated into a custom designed and built premises in the South Eastern suburbs of Sydney in April 2007. This was a purpose built building designed from the ground up by Bluegum in concert with Total construction company who also wanted a building of their own. A suitable plot of land was assigned and a duplex style building was built by Total and one half then leased to Powers Fasteners. Bluegum were instrumental in the building design from the outset and took responsibility on behalf of Powers Fasteners for the build quality, fitout and general finishing of the building. The internal colour scheme, floor tiles, door colour coding etc were all chosen by Bluegum and have become a standard in all Powers buildings Australasian wide. You can walk into a Powers building anywhere in the country or New Zealand and feel right at home as the backbone of the building design and the internal fit and colour scheme are as similar as possible in every building by extending the corporate feel throughout.
---
---
.
Private Home - Canterbury, Victoria - 2004 to 2006
Having relocated his former company twice and also designed and fitted out a building for a sub company, the former owner of Power Direct contracted Bluegum to design and construct a large home in Canterbury, one of Melbourne's most affluent suburbs.
The project began with the owners 'wish list' which Bluegum then turned into teal time drawings. The land had been previously purchased and substantial retention works were required due to the natural ground fall and the style and size of house that the client requested.

Bluegum contracted a construction company, architect, engineer and landscape architect whom worked tirelessly for over two years to complete this amazing building. The home was split level with a rise of over 9meters from end to end. The side of the hill was excavated to enclose a 14m internal lap pool running from the gymnasium. A terraced external alfresco area contained a second swimming pool and spa bath. The house contains an internal elevator extending from the garage / basement to the ground and first floors of the home. A steel and glass bridge adjoins the two upper living areas and appears to 'float' over the kitchen / family room.
---
---
.
Powers Fasteners - Cairns, Queensland - June 2006
A small distribution building and sales office for the Powers sales representative for Far North Queensland was required so Bluegum was sent to Cairns to locate and fittout a suitable building. Stock picking shelving was installed in the low height warehouse along with an office and meeting area for the sales staff. Powers colour scheme was again used where possible. Local trades and signage company were used and all works were overseen by Bluegum.
---
---
.
Powers Fasteners - Acacia Ridge, Queensland - March 2005
With the Powers Fasteners Queensland division enjoying a rapid growth phase, Bluegum were called in to assist in relocating the business to a more suitable location and into a building approximately three times larger. A suitable building was located that allowed good racking, suitable aisle widths for the current lift trucks and would accommodate the expected growth in numbers of both admin and sales staff.
New furniture and racking were chosen to better fit the building and the Powers colours were included into the building where possible. Again Bluegum took on the challenge of relocating the business, ensuring minimum downtime and were able to move the business and have them up and running again with only one days loss in trading.
---
---
.
Powers Fasteners - Head Office - Dandenong, Victoria - October 2004
In mid 2004 Bluegum were invited to prepare a property proposal for Powers Fasteners Pty Ltd in Moorabbin, Victoria. The presentation was based on current commercial property trends in the South Eastern industrial corridor of Melbourne. A number of proposals were put forward including setting up and existing building versus a custom design and construct. The presentation was made to the Managing Director who then pushed forward himself with the plan and took out a lease on a large building in Abbotts Road, which was actually included in the proposal put forward by Bluegum.
This was a new building and had no internal fittout apart from basic amenities and internal staircase, so effectively a blank canvas. We were called in to prepare a plan to fittout the building, design the office layout, plan racking etc. It quickly became apparent that substantial remedial works would be required to make the building suitable for the intended purpose. A detailed submission was prepared including a plan for internal offices, a racking and logistic operational plan for the warehouse and also a detailed costing analysis on the extension of the current warehouse offices and a large mezzanine floor and office structure.

Bluegum took charge of all aspects of these building works, contracting engineering works, building works and office fittout specialists. Racking was purchased and erected, furniture installed, cabling and IT systems run and installed. A purpose built IT room to house multiple server racks was integrated into the design, along with product testing laboratory and a large training room.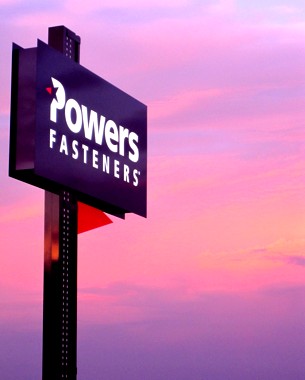 Powers Fasteners relocated into the new building in October 2004, right on schedule and well under the anticipated budget. Later modifications included additional internal offices, a large covered canopy over the rear yard to facilitate year round all weather protection for transport and a tele-presence communications room.
---
---
.
Dorcy Irwin Pacific - Fittout and Relocation - June 2004
Dorcy Irwin Pacific are a national toy distribution company with their head office in Melbourne. Bluegum were contacted by Dorcy Irwin in June 2004 to source a suitable building to relocate to as they had outgrown existing premises. A suitable building was located in Sth. Melbourne which would allow sales / administration offices and encompass a large toy showroom and also an adventure goods showroom. Bluegum designed and constructed the internal layouts from a bare shell building. A custom designed front reception counter was built to Bluegum design and incorporated into the showroom concept. Display stands and wall mounted stands were also custom designed and built.
---
---
.
Novartis - Relocation of Australian National Headquarters - May 2003
Bluegum were contracted by Progressive Office Interiors to design and coordinate the internal fittout of a 1000 sq/m (10 000sq/ft) office complex for Novartis Pty Ltd, a Swiss pharmaceutical company. This was a particularly large task and being office only, the attention to detail in the fittout was paramount to the success of the job. An environmentally stable IT room with floating floor was constructed with massive high speed data cabling to over 100 workstations and offices. A fully functional staff kitchen and relaxation area was built along the buildings Northern side to take advantage of the abundant natural lighting and window views. Archival storage rooms with multiple compactus units were installed along with colour matched furniture and feature walls in the corporate colours for Novartis.
---
---
.
sia Abrasives Australia - NSW State Office - February 2003

Design and construction of a custom designed and built facility in Wetherill Park, New South Wales and relocation of the company to the new premises.
sia Abrasives (NSW) had operated from a small facility in Sydney for many years and was operating in very cramped and adverse conditions. sia Abrasives were approached by the existing landlord who wished to expand his commercial property portfolio and sia Abrasives was offered the opportunity to take up a prominent position in his new development. Bluegum were contracted to work with the developer to design and construct a facility that would house a NSW stock distribution centre along with a small product conversion facility and an operating base for counter sales and state sales representatives.
Highly specialised abrasive conversion machinery was sourced or relocated from various other operations and a logistical stock manufacturing layout was devised and implemented by Bluegum. Stock storage, picking and dispatch areas were considered and included in the overall design and Bluegum was once again given total responsibility to project manage and facilitate the relocation of the company into the new premises.
Click thumbnails below for images:

---
---
.
Power Direct - Burwood East, Victoria - 2002 (Now AGL Ltd)
Power Direct, an electricity retailer contracted Bluegum to relocate it's growing business into a building nearly five times larger, anticipating great growth in the company. A suitable building was located allowing for 900 sq/m of floor space per level over two floors. Segregated business areas were critical with help desks, billing and accounts, sales and administrative executives all requiring dedicated zoning. The building was from the late 80's and the decor reflected this. Bluegum designed the office layouts and contracted the required workers to meet the needs. Working with the building owners, the foyer was modified dramatically and bought up to a suitable level of quality. Designed to house 200 staff, multiple kitchen. lunchroom, and outside relaxation areas were incorporated into the design.
Power Direct were purchased by AGL, Australia's largest gas and electricity retailer but the building remains in use and unchanged to this day, testament to the initial design layout.
---
---
.
sia Fibral - Relocation of sia Abrasives GB and refurbishment of Halifax facility - 2002
Bluegum were again contracted by sia Abrasives to assist in the amalgamation of various business units in to a newly purchased facility in Halifax UK. The facility was originally an English textile mill in the early 1800's and had been used for a variety of purposes over the decades. The building was sited in a valley which was fed by a constant stream, and as expansion was required, buildings were constructed further and further up the valley. Severe degradation was prevalent throughout and there existed massive ecological concerns from ground swell and leaching of chemical into the water source.
What we found was bordering on the unbelievable in this modern day and age. Much of the machinery and equipment pictured below was still in operation and the environment and working conditions were nothing short of appalling. The task was to bring this entire facility up to the standards expected of the Swiss parent company.
Many aspects of the current buildings were unsuitable for future intentions and no logical process flows existed. Over a 12 month period, Bluegum designed and modified most aspects of the site, demolishing large areas of building, creating access roadways, building bridges, creating new office and training facilities and efficient warehousing.
The massive scale of the works often involved relocating specific aspects of the facility into temporary areas to operate for extended periods. This entailed redirection of services and reticulation to different parts of the building along with staff, raw and finished product storage whilst attempting to maintain logistic flow throughout the facility.
This was a very rewarding project but also very demanding due primarily to the scope of the project and being hindered by local regulations, contractor work ethics, and the localised generic terminology pertaining to many aspects of the building and construction industry.
Due to the sheer size and scope of the project it is somewhat difficult to grasp the extent and complicated nature of the project, or projects as many components were running simultaneously.

Before and after photos produced below.
External images of the completed project. Originally all semi tractor trailers were required to negotiate the narrow laneway along the creek to access the loading docks. The new roadway allows two way motor traffic and pedestrian access at all hours and in all weathers. Dilapidated and derelict buildings have been removed, leaking roofing replaced and working conditions dramatically improved.
---
---
.
sia Abrasives UK Ltd - Refurbishment of UK National Office - 2001
Bluegum were contracted to accompany a select crew of individuals to the UK in 2000 to assist an ailing division of sia Abrasives (CH). The team comprised of administrative / financial and logistical personnel and Bluegum were given the task of revitalizing / streamlining an abrasive conversion and stock warehousing building which had seen little change since the 50's.
This was a lengthy process involving the removal of substantial machinery (defunct and dormant) and introducing a new and modern belt jointing machine which was to become the centrepiece of the new operation. Qualified technicians from Switzerland were required to install this equipment and Bluegum took control of, and project managed this function. A complete revision of the manufacturing flow was designed and commissioned from raw product in right through to finished product being stored and then dispatched to customers. Over a 12 month period Bluegum took total control of this project which included substantial building refurbishment works, co-ordination of local contractors and implementation of new machinery and operating practices whilst ensuring that the daily business operations were not adversely affected.
---
---
.
Acepia - The Internet Connection - 1998
Bluegum were originally contracted by Login Systems, co-owners of Acepia - The Internet Connection to implement an accredited Quality Management System. Due to the un-precedented growth of Acepia, the co-owners saw the need for a strong and professional Web presence. The task of designing and creating the Home page for one of Melbourne's up and coming Internet Service Providers was given to Bluegum. Bluegum continue to assist both Login and Acepia in the preparation of large tender documents and internal business management. Acepia were purchased in 2004 by Eftel in Western Australia.
.
---
---
.
DMA Constructions Pty Ltd - August 1997
DMA Constructions Pty Ltd specialise in the erection of concrete earth retaining walls such as those found lining bridge abutments and overpasses on our national freeways.

DMA contracted Bluegum to assist with their initial tender to VICROADS for the proposed Ringwood By-pass freeway. Bluegum prepared all initial costings and landfill computations for the three major earth retaining structures on this freeway. These comprised a pedestrian underpass, a bridge abutment and a re-diversion of an existing watercourse. DMA were successful in their tender and further contracted Bluegum to assist with the co-ordination of activities on site.

DMA further contracted the services of Bluegum to provide similar assistance when they were awarded the contract of the Burke and Tooronga Road overpasses on the extension of the South Eastern Freeway (M1). Certain specialised earth moving and heavy lifting equipment was required for these projects and was both sourced and purchased interstate by Bluegum on behalf of DMA.
.
---
---
.
sia Abrasives (Aust) - ISO 9001 - 1996
In 1996, sia Abrasives Australia Pty Ltd contracted Bluegum to implement a Quality Management System to the standard of ISO 9002. Bluegum were instrumental in compiling all data and writing a comprehensive procedure manual to assist sia Abrasives Australia to realise this goal.
sia were successful in gaining this level of accreditation on their first attempt and retained the services of Bluegum to maintain their ISO Quality System until 1999 when a permanent 'in-house' ISO manager was assigned.
Bluegum continue to service sia Abrasives Australia Pty Ltd by providing a range of services as listed below:
Major Corporate purchasing of plant and equipment.
Fleet vehicle procurement and maintenance.
Technical assistance with Year 2000 compliance issued, including the replacement of the entire

sia

IT System; both hardware and software; throughout the second quarter of 1998.
Maintenance issues relating to the

sia

occupied building.
---
---
.
Monash Veterinary Clinic - 1994 / 1998
Bluegum built and installed a new Information Technology Network at the Monash Veterinary Clinic in Clayton, Victoria. The system comprised of a Microsoft Back Office Small Business Server, feeding information to six consultant machines and a bank of network printers, positioned throughout the clinic. This installation required a total migration of all previous data and the DOS based veterinary customer and accounts package, VetAid. Shared drive and application access to all machines and users was also a criteria of the installation.
Monash Veterinary Clinic have further retained the services of Bluegum to design and develop their future Web presence.
.
---
---
.
sia Abrasives Australia Pty Ltd - Design and Construction of new Corporate Headquarters for sia Abrasives Australia Pty Ltd - 1994 to 1995

sia Abrasives Australia are a wholly owned subsidiary of sia Abrasives (Switzerland) who are one of the world leaders in the production of coated abrasives and related products.
Operating under extremely cramped conditions from an older style building in Clayton, Victoria, sia Abrasives (Switzerland) contracted Bluegum to design, co-ordinate and project manage the construction of their new Australian Corporate Headquarters. This was to be a purpose built factory / warehouse of approx. 4 000 sq/m with adjoining offices of an additional 600 sq/m. Specific design parameters relating to the conversion and storage of the abrasive products were to be included in the ultimate design of the building.
Bluegum sourced a parcel of land, designed the building to accommodate the various aspects and future expansion of the company and contracted a building company to construct the building. Having designed the building and written the scope of works, Bluegum remained as the 'client representative' throughout the entire building process.
.
At the completion of the construction project, Bluegum were further contracted by sia Abrasives Australia Pty Ltd to co-ordinate the Company re-location from Clayton to

the new

Rowville

premises

. This task entailed Bluegum to plan and design the new conversion facility layout, and arrange for specialised technicians to be sought

throughout Europe

who had the necessary technical expertise to accurately set-up much of the re-located plant and equipment.

Bluegum contracted and managed the entire reticulation installation including air, power, telecommunications, IT equipment, racking and specialist abrasive manufacturing equipment from Switzerland.
In co-operation with sia management, Bluegum designed and built the product storage and distribution layout to comfortably accommodate sia's 10 000 stock line items.


....
---
---
---
---